Tire Services in Raleigh & Wake Forest
Quality Plus Automotive: The Name You Can Trust!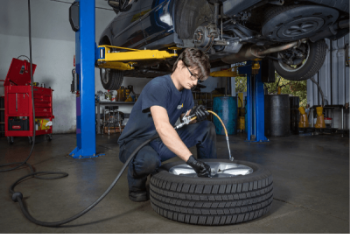 Are you noticing your vehicle gliding when you drive over water? Are there times where you seem to lose traction? Perhaps your low tire pressure light is always on. No matter the case, if there is something wrong with your tires, you need to find a solution as soon as possible. Your tires are a big part of what keeps you safe on the road and if they begin to fail or falter, it can be dangerous. Any potential issue could mean that there is a loss of threads or that you have low pressure in the tire. This can cause your tires to lose traction and skid out.
Our Raleigh and Wake Forest auto service experts make it a priority to make sure your tires are up to standard and will keep you safe. It is important to know that when you purchase tires, you should rotate and balance them as well. We can provide these services and get you on the road without having to worry about potential issues.
At Quality Plus Automotive, we carry most major brands, including but not limited to:
BFG
Michelin
Goodyear
Continental
Uniroyal
Safety Tips for Your Tires
Our team provides tips to help you keep your tires fresh and lasting longer. Remember that when the air temperature changes, it can affect the psi in your tire. If your tires are under inflated, it can reduce how efficient your fuel is. If your tires are not balanced, it can cause vibrations as you drive on the road and wear down your tires again. If they are vibrating, you should rebalance them.
Quality Plus Automotive is ready to help you with all of your tire needs. Contact our team today and learn how we can help you with new tires.