It's back to school time again! As drivers, we can help our children get to school safely by avoiding all distractions and following these important safety rules.
- Reduce your speed, pay attention, and obey traffic laws in school zones and neighborhoods
- Be ready to stop at all times, always stop for school buses that are loading and unloading children
- Watch out for school crossing guards and obey their signals
- Slow down and allow at least 3 feet of passing distance between bicycles and your vehicle
- Wait patiently for children to complete their crossing before you proceed
- Make eye contact with children waiting to cross the road
- Do not load and unload children into vehicles across the street from the school
- Don't double park in school zones - this blocks visibility for other children and vehicles
- Never pass a vehicle that has stopped for pedestrians
- Follow at a greater distance behind a bus so you have more time to stop once their yellow lights begin to flash
- Watch for bikes coming from behind parked cars or driveways
- Don't block crosswalks so pedestrians can cross the road safely
- Watch for children waiting at their bus stop or arriving late for the bus
You may need to add more time to your commute, because when buses stop to pick up students, other drivers need to stop, too.
- Yellow flashing lights mean slow down — don't speed up — because the bus is preparing to stop. There are likely students waiting to get on the bus or parents waiting nearby to pick up children.
- Red flashing lights mean stop — and wait at least 20 feet behind the bus — because children are getting on or off the school bus. Stay stopped until the red lights stop flashing, the extended stop-arm is withdrawn, and the bus begins moving.
- Even when lights aren't flashing, watch for children, particularly in the morning or mid-afternoon, around school arrival and dismissal times. Be alert as you back out of a driveway, or drive through a neighborhood, school zone or bus stop.
Be aware of North Carolina school bus stop laws: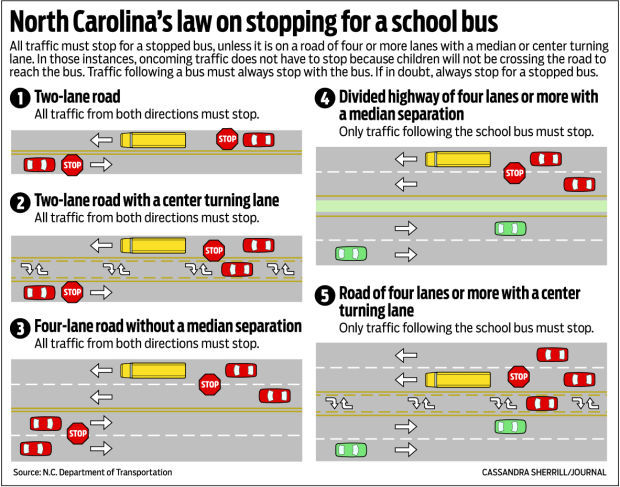 Have a great school year!